Local 412 News & Events:
---
♦  ♦  ♦
Local 412 Office Hours are M-F, 8 am - 4:30 pm
♦  ♦  ♦
The Union Meeting for November has been cancelled due to Veteran's Day
♦  ♦  ♦
The Local 412 Office will be closed Thursday, November 11th in observance of Veteran's Day. To all the veteran's out there...we salute you! Thank you for your service and sacrifice.
Welcome to U.A. Local Union 412's website. Our jurisdiction covers New Mexico, El Paso and surrounding areas. If you are a visitor wishing to find out more information about our industry and our association, please feel free to explore this site. If you are a member of U.A. Local 412, be sure to visit the members only area for information, including dues, that pertain to you. Thank you for visiting!
Building and Servicing All New Mexico and El Paso, Texas Area for Over 100 years!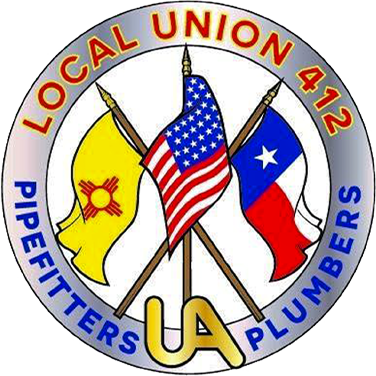 Why you should join U.A. Local Union No. 412
We uphold the United Association's CORE VALUES for our entire area of New Mexico and El Paso Texas
The mission of the United Association is to help our members build a better life for themselves and their families.  For over 125 years, this has been the cornerstone of who we are and what we stand for.  Even as our organization and the world have grown and evolved, we have not changed in our commitment to these core values.
We have the highest standards in training, safety & health, having fair wages & benefits, and building industry relationships.
DON'T Just Settle!  Join the Best!